It was winter planting day yesterday on the Tower road green.Volunteer helpers Louise, David, Gaynor, Sheila and myself along with councillor Mr Scrutan, Jazz Battu who is one of the sponsors and business owner of the Crofts dental practice and Beverley Deputy town clerk Epping town council all came along to help with the planting.The Epping in bloom team firstly had to take out all of the Summer bedding that has given the Tower road green such wonderful colourful display over the past four months.The lavender, grasses and herbs will be replanted at Market garden terrace.Angela one of our Epping in bloom volunteers will look after these plants until we are ready to replant them.The strawberry plants and the sage will be donated to Ivy Chimneys school for their raised garden beds.The geraniums where given away to passers by for replanting and some of the Epping in bloom team took some home too.
The beds and barrels have been sponsored by these six local Epping businesses and societies.
Jennings bets
Nicholson's lettings and sales
Crofts Dental practice
Epping rotary
Tax assist
Epping horticultral society.
We would like to thank them all and hope they will enjoy seeing their flower bed displays grow.The business personalized plaques will be going up in the next few weeks.
David Buckle planted up the two wooden barrels
that Epping horticultral society have sponsored.
Jazz Battu dentist and business owner at Crofts dental practice
planted up the bed he sponsored.
Local volunteers came along on the day to offer much needed planting support to the Epping in bloom team
Councillor Mr Scruton came along to offer his support too
The beds that have been planted contain a combination of yellow and purple viola's and yellow and purple pansies.At the top of each bed we have planted a small very slow growing tree called
Picea glauca var albertiana 'Conica' In the run up to Christmas each one will have a star and a few Christmas mini decorations placed on them for visual festive effect.
Farewell to the stag for the moment
Sheila Rankin Beverlley Rumsey
Gaynor Davies
Sheila donated the stag to Epping in bloom back in April for Sydney's Summer bed design.She will look after him in her garden until we are ready to move him to another site in Epping.Keep your eyes peeled as we will be asking you to tell us where the stag has been placed for a chance to win a prize next year.
Under the bench we have planted some viola's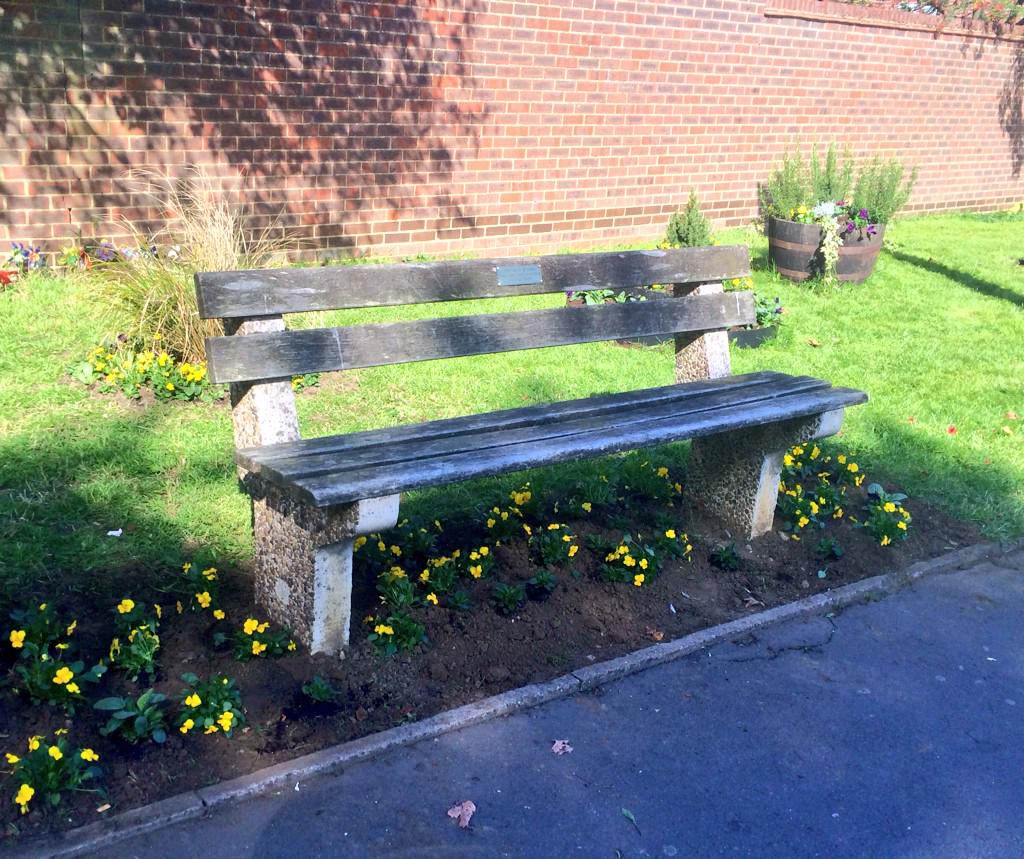 We shall keep you all posted on any new planting sites and look forward to hearing from anyone wanting to join the Epping in bloom team.
Please email us at eppinginbloom@gmail.com
Kind Regards
Victoria Robertson
Chairmen